: .

Teaching

. :

"A heart full of love is like a phoenix that no cage can contain" – Hafiz
Holistic Dance Language Curriculum
the hidden language of the soul
Although my work is deeply informed by years of immersion into cultural traditional dance forms, all of the offerings listed below contain a language beyond culture and time ~ Pleasurable embodiment, diverse physicality, subtle body language, ritual movement and inner alchemy are the main elements of the holistic dance language curriculum. Informed by ancient tradition, seeped in contemporary somatic/body science, infused with movement medicine and immersed in sacred dance inspired across time and worlds, the practices revive our hidden (forgotten) abilities, creating pathways of remembrance in the body. Through the practices, we have the power of complete metamorphosis and enhanced communication at our fingertips. The earth-based foundational work guides us to trust the ground beneath us more, deepen our roots and "fly" from a supported place. Connecting to our pelvis, to the earth and to our voice gives us deeper roots. Connecting to the heart, we open the sky. Through the work we access deep softness, grace and potent strength. We release blocked energy, and build inner power. We learn a unique vocabulary of movement, mudra and subtle energetic principles. Though a combination of slowed inner listening, breath/sound work, focused practice, and liberating trance-inducing movement, we bring our prayers to the physical world, planting the seeds of our dreams, our deepest missions, within every cell of our bodies.
: .
Offerings
. :
sample classes & workshops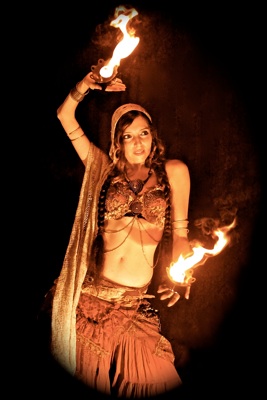 Alchemystic Dance Journey
A dance journey fusing contemporary body science, movement energetics, breath, ritual, and mystical eastern dance practices drawn across time and worlds. This healing experience opens the heart, releases the pelvis, strengthens the core, roots the feet and moves the soul. We dance the trance of release, letting go of what we don't want to hold in the body; we build inner softness & strength; we listen to our inner voice; we take a journey together to build inner power & release the body toward deeper freedom. We learn a powerful vocabulary of movement, based on the unique "holistic dance language" developed by Zola Dubnikova. Between ethereal melodies and deep trance-y beats, the mystic ancient and the present moment merge across time & worlds in a powerful experience for body & spirit.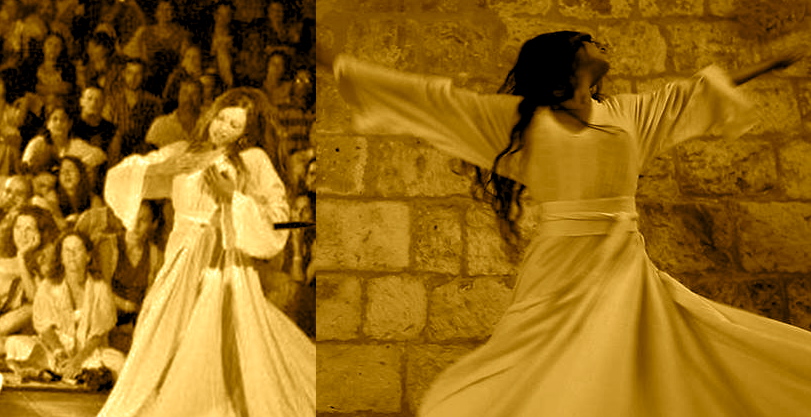 CALL OF THE HEART- Sufi Mystical Dance
In this dance journey we feast upon heart opening movements    inspired by Sufi myticism, Classical Persian movement, whirling meditations inspired by dervishes across worlds, and contemporary sacred dance.  Practices to connect deeper into our core and root into the earth give us the freedom to ground, to release, to "fly" and to make our movement offerings of love.  All of these practices are intended to guide us in abandoning our egos in the spirit of Sufi tradition; allowing us "to be danced or to let the dance come through.  By dancing from the heart, we remember divine love; By listening with ears of devotion, we nourish the soul.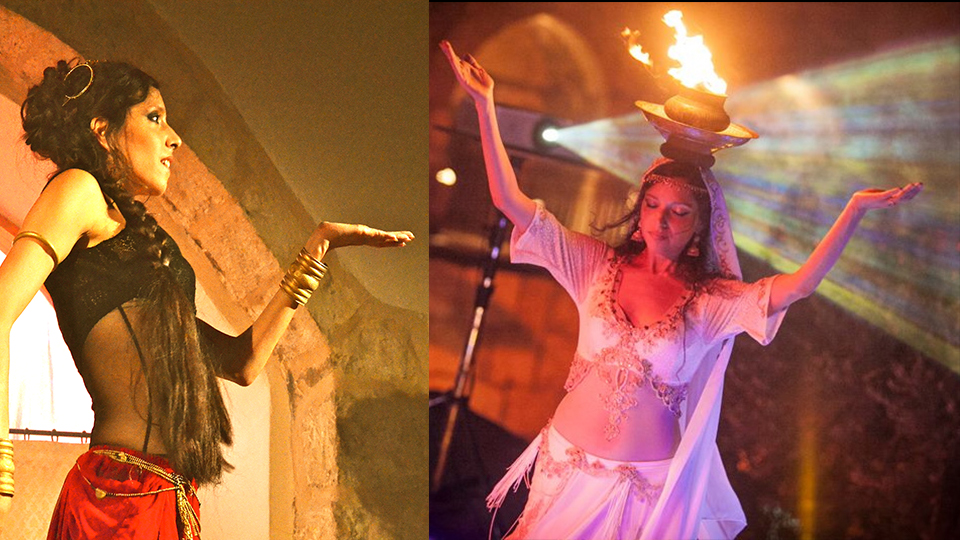 Temple Tribal Ritual Dance
We fuse ancient techniques drawn fom the devadasi lineage of India, inspired by sky-dancing dakinis and tantrikas across time and worlds, with contemporary sacred dance and movement science.  Through our dance, we bring back powerful tradition and intentions of the ancient temple dancers, (deeply respected female dancers who were highly educated in heart, body, mind and soul), in a way that applies for women of today.  The  movements are  combined in a powerful series, designed as a devotional ritual, movement prayer and powerful way to strengthen and center.   Develops serpentine grace, inner power, core strength and deep expressive grace.  We practice isolations, "inner" movement technique, cultivation of subtle expression through body language/ eyes and powerful sequences.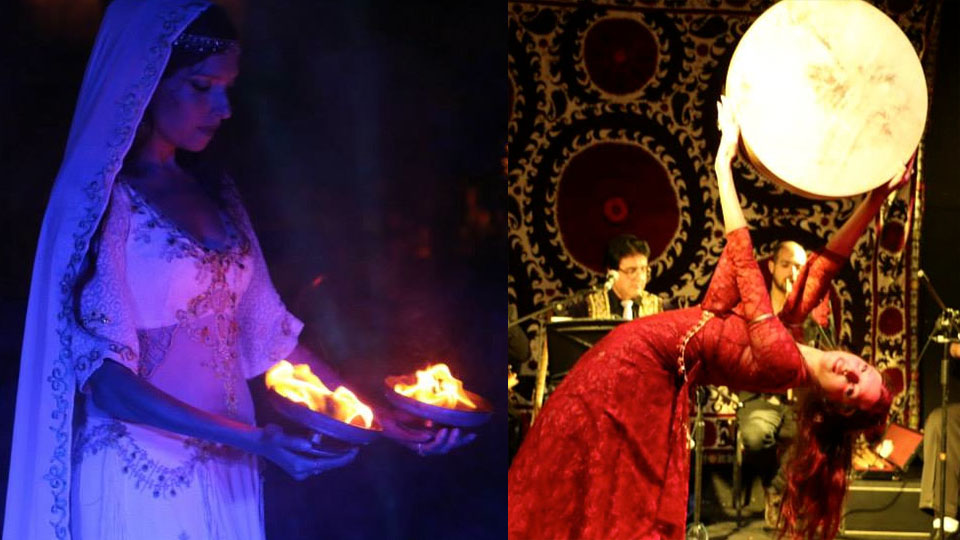 Indo-Persian Mystical Dance
Cleanse the heart, strengthen the body, and practice devotional movement through a mystical dance vocabulary inspired by Ancient Persia, the Silk Road and contemporary sacred dance.  Cultivate softness and strength, through graceful movement poetry.  Learn a wide range of spinning techniques.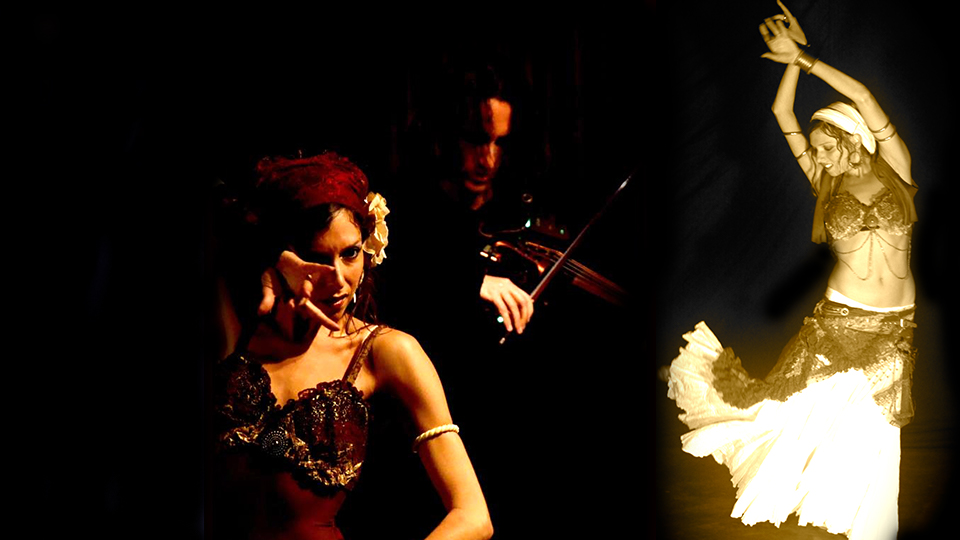 Dance Journey – on the cygany (Gypsy) trail
A journey across the cygani trail to awaken and enliven the body and the spirit.  Techniques and combinations drawing from Spanish, Rajasthani, Eastern European, Turkish, Romani, Mediterranean and innovative fusions.  Drawing from a tradition of rich counterculture, this dance born of struggle and rebellion inspires a movement language in which we taste the spice of life, drink the nectar of the earth, enjoy our bodies, taste the passion, and release our spirit… Spinning techniques, powerful foot stomping combinations, inner pelvic movement, hip work, extensive release technique and strong arm/hand work drawing across tradition…
Holistic Dance Journey for Women
A dance journey for women, drawing from mystical traditions across Persia, the Middle East, India, North Africa and beyond. We combine inner practices, powerful movement sequences, and innovative sacred movement. We take a journey to open our hearts, connect to our pelvis, to the earth and to breath/voice. We release blocked energy and build inner power. These powerful movement practices open the body and the heart to deep softness, grace and potent strength. In a space where only women are present, a unique safety exists enabling us to go even deeper into some of these practices.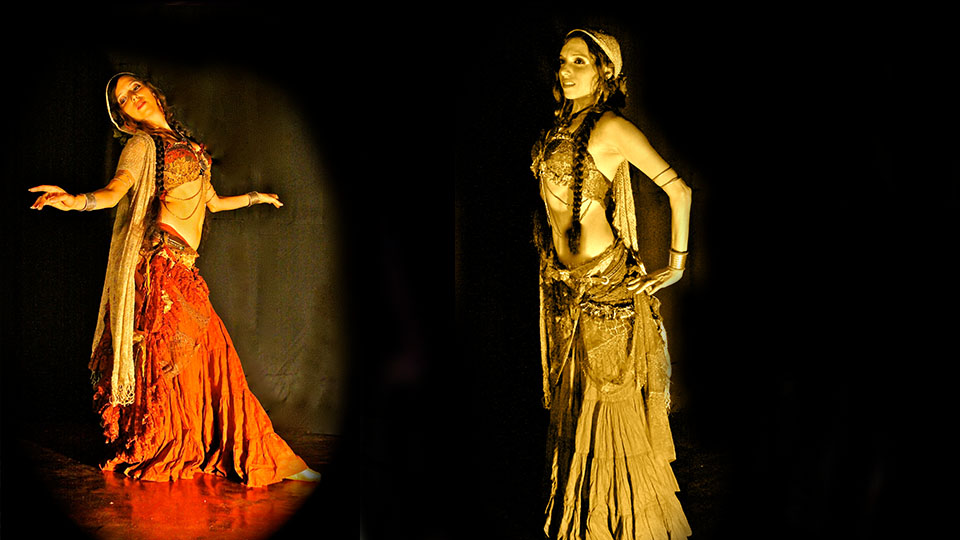 Belly Dance Fusion
Drawing from Tribal Belly Dance, Indian, Spanish, Persian, Egyptian, Turkish, Moroccan, various romani "gypsy" styles and contemporary "fusion", we fine-tune abdominal and pelvic muscles, practice hip/upper body isolations, connect to sensual, serpentine movement and activate feminine power. As in the days of old, when women would dance in ritual together before child-bearing or in celebration of being a woman, this style of belly dance is meant to cultivate internal strength and feminine flow.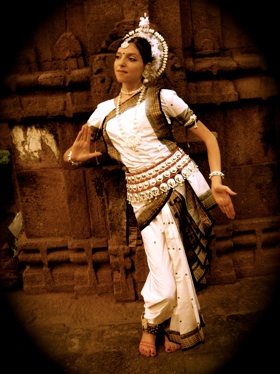 Odissi Temple Dance
Ancient devotional classical dance from Orissa, India, once performed only in the temples by highly trained temple dancers (devadasis). In this style, we learn to harness internal energy through devotion, discipline, detailed technique, and specific positioning/posture. Learn mudras (hand positions) and stepping sequences in the traditional choka and tribungi postures.  Receive dance sequences said to have been passed directly from the celestial dancers thousands of years ago. Deepen physical strength while fine-tuning expression, subtle eye movement and internal power.
Ritual & Sacred Dance
A woman's workshop series designed to offer tools for increasing awareness, empowerment, expression/body communication and energy through ancient dance practices across worlds, including temple ritual & technique from India, sacred movement and individual expression. We explore a wide range of energies which every woman should be able to call upon as needed in different circumstances. In every dance form we explore the importance of the"power center" (a.k.a hara, belly, core, womb, tan tien) in harnessing, containing or moving the energy within this life-giving source of female power.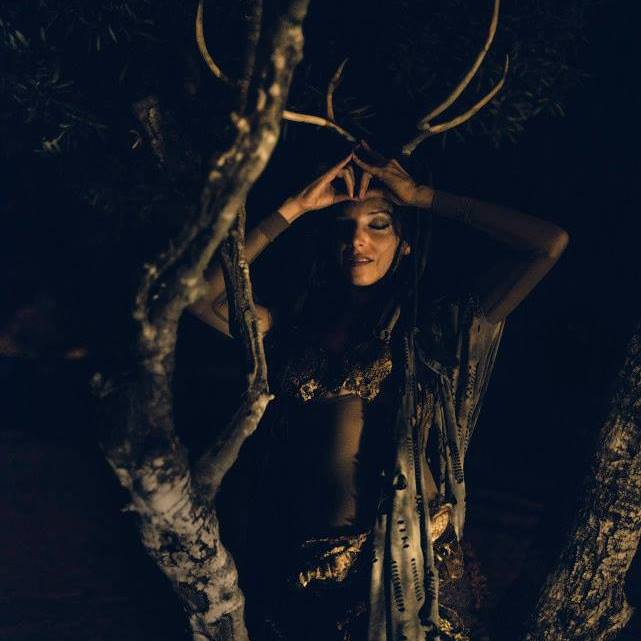 Animal Spirit Medicine
A healthy woman is much like a wolf – strong life force, life-giving, territorially aware, intuitive and loyal… The wild nature carries the medicine for all things – she carries everything a woman needs to be and know… She is the essence of the female soul."  – Clarissa Pinkola Estes
In today's world, it's easy to lose touch with our wild feminine power & instinctual nature.  Inspired by master teachers of the animal kingdom, this workshop is designed to arouse the feminine parts of ourselves that may have fallen asleep. We take a journey together to revive our mystical nature and intuitive power as women. We harness this inner power through unique breath, vocal & movement practices, learning to draw upon different energies in the body as needed. Finding inspiration through the wild animal-woman archetype, our dance comes through effortlessly & our life force becomes stronger. We are guided in listening more deeply to our inner rhythm and intuitive impulse. This inner rhythm is different for each woman, each day, and each moment when she rests in her authentic power. By listening to the feminine, flowing, ever-changing, wild nature, our deepest dreams are remembered.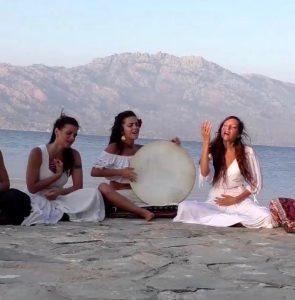 Journey of the Voice
When we free the channels in the body, the voice has no choice but to open.  When we free our breath, sound is a natural process.  On this journey, we use practices of the holistic dance language to open the body & to free our breath, so our voice may be liberated.  When we allow song to emerge from our natural breath, harmonic tones emerge effortlessly. We also fine-tune our sound through subtle "seed" sounds to bring healing power to ourselves and those we "touch" through our sound.
Rajasthani Mystical Dance
After living in the deserts of Rajsthan, India with a tribe of Khalbelia (snake-charming) caste who eventually treated her as a sister, this tribal dance penetrated deep. Thought by some, as the origin of all 'gypsy' dance, the spicy Khalbelia movements are connected to the earth, full of powerful subtle eye movements, yogic flexibility, mesmerizing spinning techniques, powerful foot movements and hand gestures full of meaning (mudras). Entrancing Rajasthani music & khalbelia movement takes us on a mystical and empowering journey across time. (photo is an image of Zola (L) performing with her Rajasthani "family" in 2008)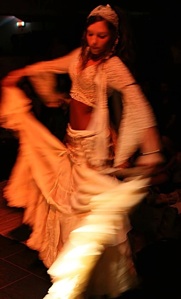 Afro-Brazilian Folklorico
Deep rhythms pulse through the heart and pelvis, open the body and connect us to the earth. We make primal movements, pelvic work, release techniques and deep breathing, accelerated & opening the heart so that the wild spirit may fly. From Samba de joda to entrancing movements inspired by the dances of the Orixas (spirits of nature), this class is bound to lift the spirits high with full Axe (Spirit).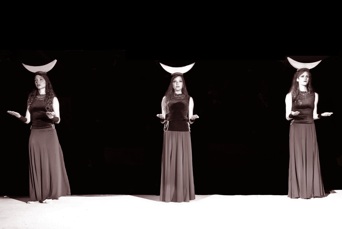 El Ha'Ela Dance Ensemble Ritual
Workshops designed for those who are ready to be part of a ritual performance experience inspired by choreographies from El Ha' Ela Ritual Dance Ensemble. We focus on learning movement sequences which can be performed as an offering. A combination of structured improvisation and ritual choreographies.
: .

Format

. :

Special workshops can be presented in many formats from one day intensive to weekend workshops, 5 days or week-long workshops, initiation level (introductory workshops) to advanced immersions.  The unique Holistic Dance Training Format developed by Zola can be designed for all levels, from courses for beginning dancers to professional level… The course can include a sampling of elements listed above or with a focus one particular aspect.  Workshops can also be designed as a unique offering for special events.  Workshops can also include live musicians.  If you are interested to host a workshop in your country, please contact: z@zoladubnikova.com for more information.

For full current class schedule as well as upcoming international retreats, please visit the events page